Northfork'd

Places To Eat
Posted: September 24th, 2014
Cliff's Elbow Room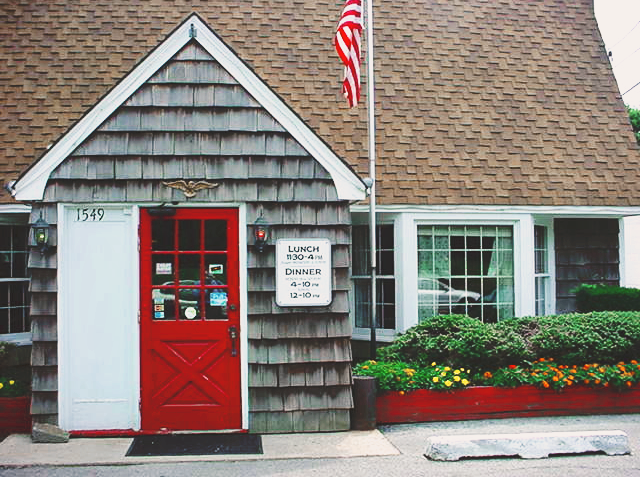 You might have low expectations from a wooden shingled building that stands weathered, but sturdy on the side of Main Road in Jamesport.
You think such a low-key place is outdated and the menu boring.
Or perhaps that the atmosphere won't do.
You would be wrong.
This place rocks in its throwback greatness. Welcoming to both regulars and first timers all year round with basic and delicious seafood and meat.  There's fried stuff and beer and chowder and the closest thing you're going to get to a veggie are French fries or a smothered baked potato. This is not delicately organic wine country that the North Fork sometimes sells to Manhattanites. This is actual "we live on the water" Long Island.
And it's awesome.
We found our way to the Elbow Room desperately in need of some sustenance. After hours painstakingly combing through our soon to be Cutchogue home with a home inspector, we took his recommendation for a place to grab dinner. Since we trusted him to tell us our roof was sound for five more years, taking his advice re: what to shove in our faces was a given.
Cliff's Elbow Room.
There's something special that beckons to you through the high winter 6pm blackness. A lone building stark against the February snow, there's no way to know the comfort food and anything goes attitude is so plentiful here it basically spills right out the bright red front door.
As Sunday early suppers go, the bar side was jamming.  Heaping plates of Fried Calamari and Poppers sat on the bar along side CHOPPED CHICKEN LIVERS to compete in one patron's "Appetizers from Another Time" competition.  Blue Point Lager topped with faded Orange slices fueled the chatting crowd rowdily jeering each other as some sporting event graced the television. A cozy roar and intense heat from the kitchen kept my attention from the dining room to my right. It sat no more than 30 people. Each seat had an ass in it.
I meekly worked my way through the throng to ask the hostess for a table. She looked over her reading glasses and inquired if I had a reservation.  Before I could give her an answer, she interjected with a "We only took them today because it's Valentine's Day."  I laughed and glanced down at my ripped jeans and sweater with a stain on it. Luckily, Cliff's Elbow Room is come as you are in more way than one.
Anyone who's spent time on the East Coast has had a meal in a dark restaurant decorated like a fisherman's garage. That is a good thing. Draw on your memories to order.
You cannot go wrong with Long Island Staples: Broiled Peconic Bay Scallops, Stuffed Clams, Fried Clams, Clammed Clams.
The carnivores will not be sad at Cliff's.  The cut of your choice (as long as your choice is shell, porterhouse or filet mignon) is marinated in signature special sauce and broiled to carcinogenic perfection.
Your meal comes with an iceberg salad (pick ranch to quell your inner Midwesterner or ask for Cocktail sauce to cement your place in the 1970s) and WHITE DINNER ROLLS that I eat six of before someone at the table can stop me.
The surly, but not mean waitresses regal you their insane instantly recall to rattle off the dressings (but I just told you what to get, so don't listen) and multiples wines and beers on and off draft. The wines by the glass are offered to your verbally by varietal, producers be damned.  Stick with the beer though unless nameless faceless anonymous red wine is your thing. And sometimes it's exactly what you need. All if it is.
Cliff's Elbow Room was one of my first meals on the North Fork and still a staple in the rotation.  Put it in yours.
Map & Location
1549 Main Road, Jamesport, New York 11947 - (631) 722-3292
http://www.elbowroomli.com/
Comments